5 December 2013:
How much is a birthday worth?
I have never been a fan of birthdays and birthday celebrations. Personally, I am perfectly fine if people do not remember my birthday or celebrate it for me, even my family. To me, a birthday is actually yet another day of existence.
As a result, I seldom wish others on their birthday or celebrate others' birthdays. I do so only if I am a close friend. Other than that, I actually do not really bother about when people celebrate their birthdays.
But I understand others do not think the same way as me. For many others, a birthday is an enjoyable day where they would get together with friends and family during meal times and look forward to receiving presents.
Of course, I do not actively frown upon such thinking; it is perfectly fine if others choose to do so. However, I have noticed a troubling thing about birthdays and how they are celebrated.
For those who value birthdays (not me), I don't know if you have noticed: nowadays, many a birthday greeting is done through Facebook. Personally, I would regard it as insincere. However since I don't value birthdays, it's still fine for me.
(Nevertheless, I have removed the option to show others my birthday. I believe that my close friends – those who really bother – would know it. Others who aren't that close and don't bother need not know anyway.)
Today is radio DJ Siao Jia Hui's birthday. I found out about it on air, where Cruz Teng talked about it, so did Jeff. And what Jeff went on to say made me nod in agreement. It seems like the value of birthdays have been diluted.
Jeff was saying that if his close friends merely wished him on Facebook, he would feel hurt. Indeed. Personally, even though I don't celebrate my birthday, if that person is my close friend, I would definitely do more than a simple message.
Which I did, over the past few months. I have sent out long messages to friends whom I treasure for their birthday.
To me, a Facebook message is downright insincere. That should be left to those who pretend to care.
Another trend would be wishing in Whatsapp groups. This happened during my birthday. I had actually not told anyone in my class about my birthday, since to me none are close enough as yet.
Yet, someone found out and wished me on the class Whatsapp group. Later on, a few others wished me too. I am not angry at or blaming anyone. However, I honestly believe that if you really wanted to, a personal message would've been better.
To me, such wishes are at best a form of goodwill. It is done as a matter of good manners, but without much thought. These are stock greetings: with the words 'happy' and 'birthday' and a name and maybe an emoticon or two.
To me, these are rather insincere greetings. Of course I will not snub them, but I honestly am not as thankful, as compared to when my friends write out heartfelt personalised messages for me during my birthday.
Therefore, for those who value birthdays, I would suggest: find out the birthdays' of your close friends and properly celebrate it for them. Don't wish them in Whatsapp groups or on Facebook. Those are infinitely diluted stock greetings.
For those who have personally wished me on my birthday this year, thank you very much, I deeply appreciate it. I believe I have also replied one-by-one, to reciprocate your sincerity.
As for those who have wished me using stock greetings, don't bother. In the first place I don't value birthdays, so I do not expect people to remember it. So don't bother wishing through Facebook or wishing in groups.
Disclaimer: I am not angry at anyone. While my tone may sound passive-aggressive, I am not trying to guilt-trip anyone as well. Those were simply my reflections based on what I observe of people and how they wish others.
TTFN.
4 December 2013:
Timely reminder
1 December 2013:
Today is World AIDS Day.
According to its website, this initiative started in 1988, presumably in the UK. It aims for people to 'unite in the fight against HIV, show their support for people living with HIV and to commemorate people who have died'.
Just in case you may be unsure of what AIDS is about: acquired immune deficiency syndrome (AIDS) is caused by the human immunodeficiency virus (HIV). Its most common method of spreading is through sexual intercourse.
As part of the A Levels, biology students (especially in Singapore) learn about in greater detail. That involves things like glycoproteins 41 and 120, which isn't very attractive to the general public wanting to know more about AIDS.
But I digress.
Basically, once HIV enters a cell, it will then infect the host cell and produce a 'bad' piece of RNA, which contains a code. This code kills off CD4 positive cells, which are involved in a person's immune system.
Therefore, HIV wrecks a person's immune system. Medically speaking, a person suffers from AIDS when his CD4 cell count is below 200 cells per microlitre. This means that his body is now more susceptible to various other diseases.
There's a saying that people die from AIDS. More accurately, though, they die from other diseases that they catch due to a suppressed immune system, even cancer. The most common cause of death due to AIDS is actually cancer.
~
AIDS is a scary disease. Thankfully, there are currently ways to prevent you from getting it. The most obvious form would be to use condoms. An Australian scientific paper has proven that condoms reduce HIV transmission risk by 80%.
Condoms are also, at least in Singapore, easily available, as compared to other protective measures. Therefore, protect yourselves. Slot in on, rubber to your horn. (Of course, for females, ask the guys to do so as well.)
Also, do not give oral sex if your mouth has any open sores or lesions. Otherwise, as HPB advises, use a condom for oral sex if you have any wounds. (Which, I think, is ridiculous. Just wait for the wounds to heal, you horny bastards.)
~
Maybe by now you're bored. You're thinking: 'I know all these, I do what you've said, I am HIV-negative, I don't need to read on!' That's where you're wrong. Even if you're HIV-negative, there's actually still something you can (need to) do.
And that is to not discriminate against those who have AIDS. While it is true that some of them made not-so-wise sexual choices (unsafe sex), we really shouldn't be judging them based on that.
Worse still, some may have got it from unfaithful spouses, while he / she was faithful himself / herself. Bottom line? Don't judge or assume. Instead, we should help these people while they are seeking treatment.
The process isn't easy. Besides taking anti-retroviral drugs, these people may also have to take other drugs to cure other related diseases. At times like these, what they need would be positive encouragement from family and friends.
This point about non-discrimination also helps others to find the courage to test for HIV and save themselves early if they do. There are reported cases (which the health ministry or organisations can track), but what about those unreported?
~
This brings me to the latest statistics about HIV in 2012 in Singapore. It was just released two days ago, by the health ministry. In 2012, 437 men and 32 women were newly reported to have HIV.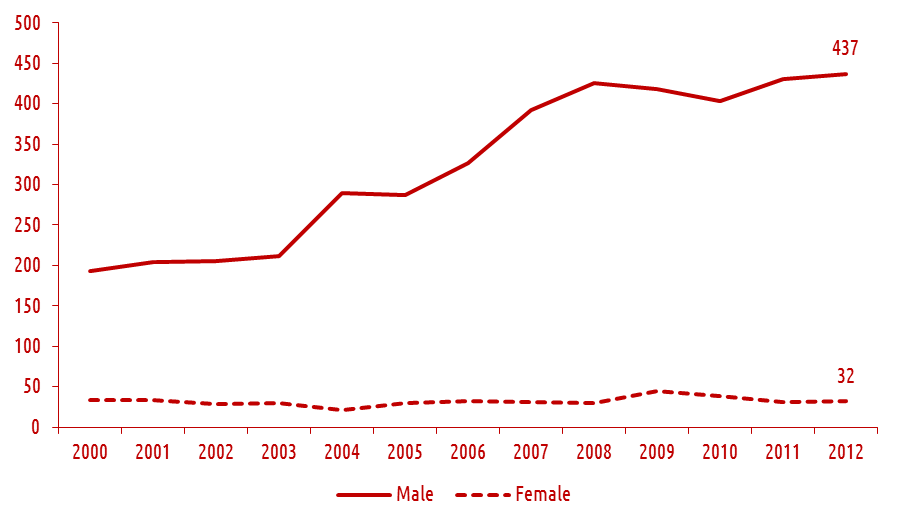 From the numbers, it does seem like the figures are rising, at least for males. I just hope that more will choose safe sex, and more will get tested. It is possible to eradicate HIV, but it takes time and everyone's effort.
No matter what, there will be #SomeoneLikeMe who is willing to support such people and raise the awareness of AIDS and HIV. Today is World AIDS Day. I hope one day there will not be a need for a world AIDS day.
TTFN.
I know that sexual intercourse isn't the only way that HIV can be transmitted. Another factor is through intravenous drug use, where needles are recycled between people. The reason why I did not touch on this is because I don't know enough about this, and that I feel transmission via sexual intercourse is a more pressing factor to be solved. For 2012 cases, only 0.7% of it was due to IV drug use. The remaining 99.3% was due to sexual intercourse.